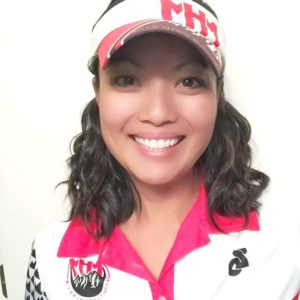 Khem Suthiwan
Assistant Coach
Independent Contractor
Coach Khem grew up in Wichita, KS and has lived in the Denver area since 2001. She considers herself a late-blooming bench warmer with the only exposure to endurance events growing up was the annual Wichita River Run 2-miler. Even with her late start she managed to make the Varsity Cheerleading squad, gymnastics, basketball, and tennis teams in high school.
Khem's career as an endurance athlete started after college when she moved to Denver from Lawrence, KS (Go Jayhawks!). In 2002 she completed her first marathon (Mile High City Marathon) and in 2003 her first triathlon (Danskin Women's Triathlon). After taking a couple years off she returned back to running in 2006 through the Leukemia & Lymphoma Society's Team in Training program with a total of 7 marathon finishes to date and then crossed over to the TNT triathlon program in 2010.
Since 2010, Khem's athletic career has been primarily focused with triathlon. In addition to numerous triathlon finishes of varying distances, she has four IRONMAN finishes under her belt including the IRONMAN World Championship in 2015 and the inaugural IRONMAN Lake Tahoe in 2013. Her passion, dedication, and love of the sport led her to serve on the IRONMAN Foundation Ambassador Triathlon team in 2013, 2014, and 2017. Khem is a firm believer in giving back to the sport that has given her so much both personally and professionally.
Khem knows first-hand the challenges of balancing work, training, and maintaining personal relationships which makes her a great fit for busy professionals. She enjoys coaching new athletes and those who are looking to make the next step to longer distances, but most of all making sure her athletes are having fun no matter what.
Coaching History:
Coach Khem has been a USAT certified coach since 2014 and Team in Training coach from 2008-2017. She has successfully coached athletes brand new to the sport of triathlon all the way up to marathon and IRONMAN finishers. Her extensive experience in racing triathlons, cycling events (road and cyclocross), and road running races of various distances gives her a wide range of knowledge to share with her athletes.
USA Triathlon Level I Certified Coach
USA Track & Field Level I Certified Coach
TrainingPeaks Level 2 Certified Coach
Slowtwitch Certified Triathlon Swimming & Cycling Coach
Team in Training Certified Marathon & Triathlon Coach
Bachelor of Arts in Microbiology
Master of Business Administration
Coaching Philosophies:
Coach Khem truly believes the sport of triathlon should be accessible to people of all abilities and backgrounds…and it should be fun no matter what. When it stops being fun you need to start doing something different. She gives each and every athlete the individualized attention they deserve. All she asks in return from her athletes are the willingness to learn, consistency, hard work, and dedication.
Athletic Highlights:
4-time IRONMAN finisher (2012 Canada, 2013 Lake Tahoe, 2014 Arizona, 2015 World Championship in Kona)
8-time IRONMAN 70.3 finisher
7-time Marathon finisher
2017 Everest Base Camp
2014 Harvest Moon AquaBike 3rd Place A.G.
2014 HITS Grand Junction Sprint Triathlon 2nd Place A.G.
2014 Oktoberfest Sprint Triathlon Top 10 A.G. Finisher