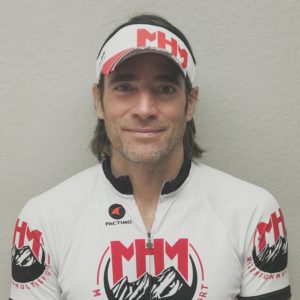 CHARLES PATRICK
ASSISTANT COACH, INDEPENDENT CONTRACTOR
With 20 years of education experience as a middle school and high school Advanced Placement history teacher, Charles decided to bring his love of teaching together with his love of swimming, biking and running. His greatest sporting love is cycling. From BMX in the 1980s to road cycling in Chicago land in the 1990s to his first triathlon in 2000. He has always been involved in coaching throughout his adult life: basketball coach, spinning instructor, rock climbing instructor, history teacher and now a multisport coach! One of his greatest strengths has been to delve into a subject and absorb all there is to know about it so he can then teach it to others. With a Masters in Curriculum and Instruction, he has applied this knowledge to creating individualized training plans centered around the athlete's unique requirements. He is always learning and working towards making his athletes the best they can be. With his Ironman University Certification he is ready to work with athletes of all levels, abilities and backgrounds. Other than triathlon, he also specializes in pure runners. He is accepting new clients and can be reached at Charles@milehighmultisport.com
Coaching Philosophies:
Charles believes that the athlete/coach relationship should be centered around the individual needs and wants of the athlete. Every athlete is unique and therefore should have a unique training plan based on sports science and best practices established by the experts in the field BUT tailored for their individual lives. A good training plan will fit into the athlete's life as seamlessly as possible.
Athletic Highlights:
3 x IM finisher
10 x 1/2 IM finisher
Numerous Olympic and sprint races
Mountain bike and cross bike races
Former competitive road cyclist
Coaching Experience:
Charles is an Ironman University Certified Coach and has been coaching since 2016. Although new to coaching he is already making a strong start.
I have been a triathlete for 4 years now, done 3 half Ironman's and 3 full Ironman's on my own with no coach. I just started working with Charles this season and my gains in less than 4 months with him have been nothing short of miraculous. Charles has improved my ability in all three disciplines in ways I never thought possible, and in such a short period of time. My swim, bike, and run abilities have improved a great deal under his tutelage and I couldn't be more thankful for him. I just shaved 30+ minutes off of my best Half IM time and am confidently excited for more with him by my side. I understand more about the sport than I ever have and feel like I can actually compete in the sport of Triathlon in ways I never thought possible.
I am so fortunate to have found such a knowledgeable and supportive coach for my first experience with triathlon. As a newbie, I was a little overwhelmed by the sport but with Charles'; support and encouragement, I've fallen in love with triathlon. He's helped me every step of the way from understanding how my training plan is structured, to learning what gear I need, to helping me through an injury, to going with me on my first open water swim. I feel totally prepared and confident for my first race. Charles has helped me choose which races are best and even helped me select places ideal for training to get the most out of my workouts. He always helps me understand what my data means and how it impacts my overall fitness. Perhaps most importantly though, he doesn't hesitate to push me to work as hard as I can!  I cannot recommend Charles highly enough. He's helped me transition from someone who just works-out into an athlete!